Dec 14

Celebrating Wilmington's New Dana Strand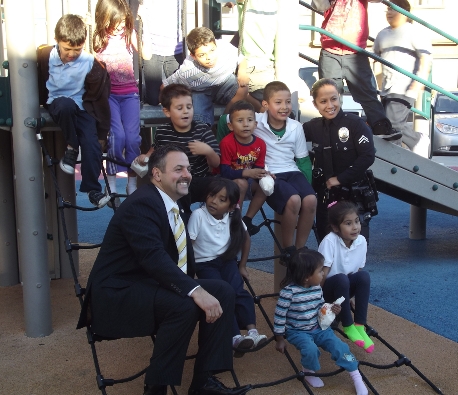 In November, residents of Wilmington's New Dana Strand celebrated the successful transformation of the community with key partners, the Los Angeles Police Department (LAPD) and Mercy Housing California (MHC). MHC received an award of $20,000 from the Local Initiatives Support Corporation (LISC) and MetLife Foundation Community-Police Partnership for the revitalization of New Dana Strand. The successful revitalization has reduced crime and continues to stimulate economic development in the once dilapidated public housing "superblock."
New Dana Strand Village has had a long history of gang violence and crime. In 2004, the public housing projects were demolished and MHC took on the challenge of redeveloping the community. In addition to adding 116 townhomes, Mercy Housing worked with Abode Communities, the LAPD, various city officials and residents to design a long-term safety and security plan to prevent and reduce gang violence.
A key success of New Dana Strand was the extensive involvement of residents, parents and staff from the local elementary school. Now, residents feel safe and have access to many resources and services including on-site programs such as dance classes, teen programs, homework computer lab and The Lifelong Learning Center.
Stay Up To Date
Get news on Mercy Housing and inspiring stories of change delivered to your inbox.