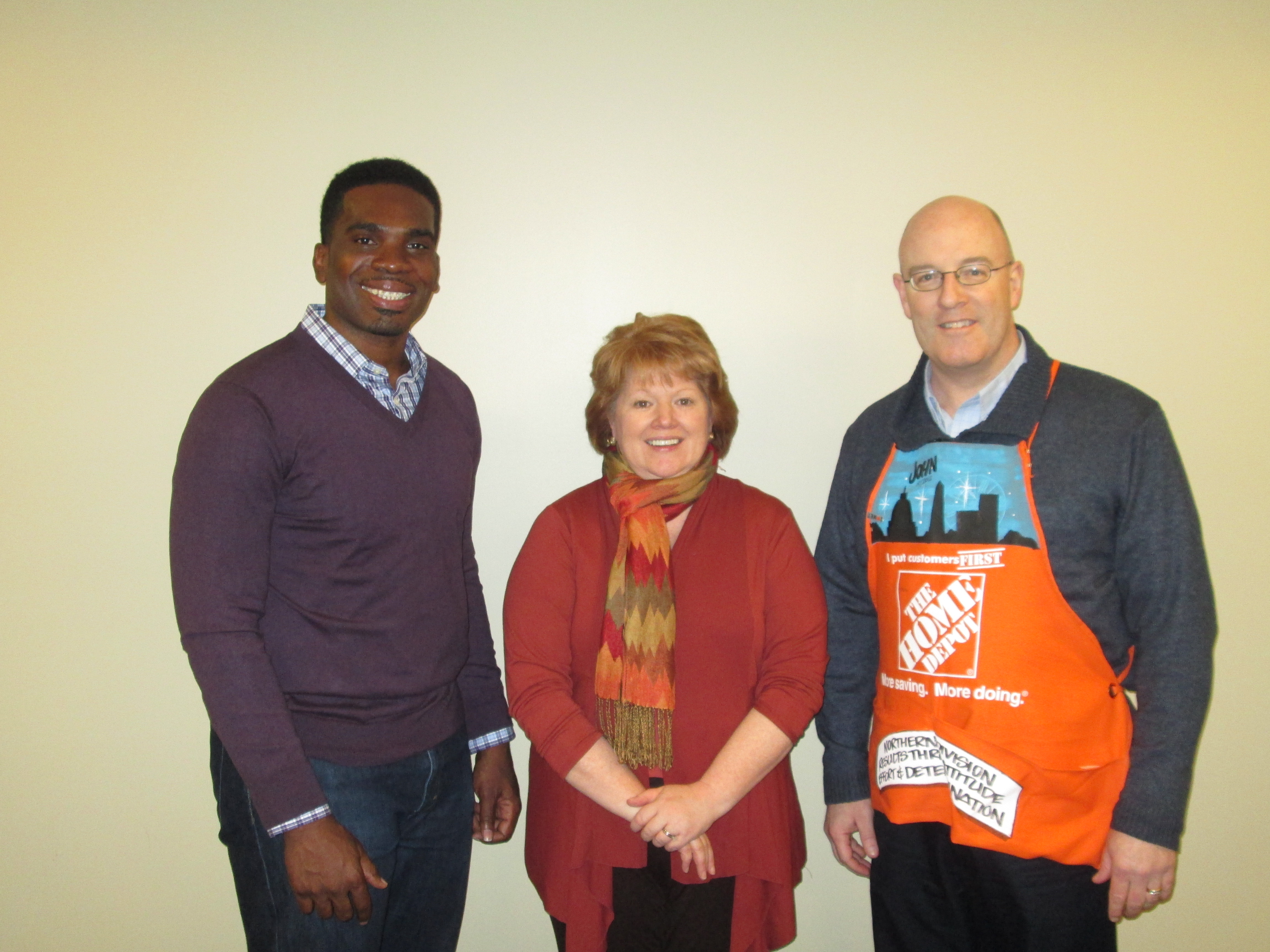 Feb 14

The Home Depot Foundation Awards Mercy Housing Lakefront $400,000
Thanks to a $400,000 grant from The Home Depot Foundation, Mercy Housing Lakefront will renovate 108 units of affordable housing for veterans and their families in Chicago.
"The men and women who serve in the military are heroes," said Cindy Holler, President of Mercy Housing Lakefront. "Thanks to The Home Depot Foundation, we can help some of them to live in hope."
The grant will help renovate 108 units of veterans housing within five major projects:
Renovation of the historic Pullman Wheelworks to preserve affordable family housing in the Pullman neighborhood;
Renovation of the former Sears headquarters to create affordable family housing in the North Lawndale neighborhood;
Renovation of the former Keating warehouse to create affordable family housing in the Little Village neighborhood;
Renovation of five permanent supportive housing buildings to preserve housing for formerly homeless individuals in the Uptown neighborhood; and
Renovation of four buildings to preserve affordable family housing in the Austin neighborhood.
"We are proud to partner with Mercy Housing Lakefront to create housing opportunities for veterans," said Kelly Caffarelli, president of The Home Depot Foundation. "This grant is part of The Home Depot Foundation's five-year commitment to provide $80 million in support for veterans."
The renovation projects supported by this grant are part of Mercy Housing Lakefront's overall Veterans Housing Initiative which aims to build or preserve 1,000 housing opportunities over ten years. Mercy Housing Lakefront is undertaking this initiative to address the needs of veterans returning from the wars in Iraq and Afghanistan, as well as older generations. According to the U.S. Department of Housing and Urban Development, 62,619 veterans are homeless on any given night.
Ultimately, Mercy Housing Lakefront's Veterans Housing Initiative will help thousands of people like Leonard Moscicke. A World War II veteran, Mr. Moscicke was living alone in a mobile home and struggling with grief following the death of his beloved wife. Fortunately, he was able to acquire an affordable home at Mercy Housing Lakefront's Countryside Apartments. Now, he not only calls his apartment "home", he calls it "heaven." Mr. Moscicke says he thrives in the community atmosphere of the building. "I never want to leave this place," he shares.
To hear more about Mr. Moscicke's experience, please check out the "Mercy Now" video posted on YouTube: http://www.youtube.com/watch?v=SBt9hPoW0Z8
About Mercy Housing Lakefront
In response to the economic crash and housing crisis, Mercy Housing is working with hundreds of partners to fulfill our ten year Moving Forward Together campaign to build or preserve 7,500 affordable homes, create 8,000 jobs, and ultimately prevent homelessness for 20,000 people in the Chicago and Milwaukee region. This work includes the efforts of two sister organizations. The first is Mercy Housing Lakefront (MHL) which has developed and currently manages 24 affordable rental properties enabling 3,400 people to live in hope. The second is Mercy Portfolio Services (MPS) which was created to address the foreclosure crisis. MPS manages Chicago's Neighborhood Stabilization Program with a goal to rehab and reoccupy thousands of foreclosures. In addition, MPS recently established a $100 million Mortgage Resolution Fund to help thousands of Illinois families save their homes from foreclosure. MHL and MPS are part of Mercy Housing, a national organization that has developed, preserved, or financed more than 42,964 affordable homes. Please find more information atmercyhousinglakefront.org.
About The Home Depot Foundation
The Home Depot Foundation is dedicated to improving the homes of U.S. military veterans through financial and volunteer resources to help nonprofit organizations. The Foundation has committed $80 million to these efforts over five years.
Through Team Depot, the company's associate-led volunteer program, thousands of Home Depot associates volunteer their time and talents to positively transform neighborhoods and perform basic repairs and modifications to homes and facilities serving veterans with critical housing needs.
Since its formation in 2002, The Home Depot Foundation has granted more than $340 million to nonprofit organizations improving homes and lives in local communities. To learn more and see our associates in action, visit www.homedepotfoundation.org.
Stay Up To Date
Get news on Mercy Housing and inspiring stories of change delivered to your inbox.