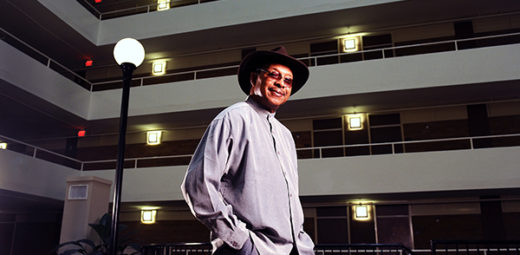 Sep 04

How Health & Housing Saved a Life
Johnnie Dickerson credits Mercy Housing for saving his life. Literally.
Johnnie is a retired 72-year old who resides at Mercy Housing's The Atrium at Collegetown in Atlanta. Every Monday, Dr. Ayanna Buckner from Morehouse School of Medicine stops by Johnnie's home for a check-up. On one particular cold, December Monday, Dr. Buckner noted something of concern to her during her routine health check.
"Dr. Buckner advised me to go visit the community's onsite Wellness Center, staffed in collaboration with the Morehouse School of Medicine," said Johnnie.
He took her advice and following a more in-depth consultation, Johnnie was given some unsettling news. His blood pressure was dangerously high, and on the advice of Dr. Buckner, Johnnie scheduled an appointment with his primary care physician for the following morning.
"My doctor told me my blood pressure was so high, I was in danger of having a stroke," said Johnnie. "I was shocked. It was really scary."
Jennifer Williams, Resident Services Coordinator at the Atrium at Collegetown, remembers that experience well.
"I think my mouth probably fell open from shock," exclaimed Williams. "Mr. Dickerson started sobbing and thanking all of us for saving his life. I explained to him that he saved his own life because he took the necessary steps to address his health issue right away. He thanked me for the work we do here at the Atrium. I must admit, it was a very moving experience for me and it reminded me of how and why we do the work we do."
Today, Johnnie is still a faithful participant in Dr. Buckner's weekly visits and a key leader in the Atrium community as a floor monitor. He conducts weekly resident wellbeing checks, reports any concerns on his floor and passes out monthly communications to other residents.
"Mr. Dickerson is such a gentle spirit and anything he expresses comes truly from his heart," said Williams.
The Morehouse School of Medicine based in Atlanta, has joined forces with Mercy Housing's Atrium at CollegeTown to bring preventive health care as close to residents' front door as possible. Recognized for its dedication to improving the health and well-being of both the underserved individual and community,  the Morehouse Department of Community Health and Preventive Medicine is focusing on helping Atrium residents improve their function and quality of life by incorporating preventive activities into routine care. Dr. Buckner spearheads the program.
"With a preventive program like the Atriums', we are making preventive services more accessible to residents and at the same time decreasing the burden on our health care system. In fact, studies show that chronic diseases, such as diabetes, arthritis, hypertension, and kidney disease, account for an increasing share of Medicare and Medicaid's costs, " acknowledged Buckner.During a wellness visit, Buckner can develop and/or update a personalized prevention plan that takes into account the resident's medical and family history, detection of any cognitive impairment, potential risk factors for depression and review of the individual's functional ability and level of safety. By doing so, Buckner and the Morehouse School of Medicine team can help create a personalized health program and referrals, to education or preventive counseling services.
Stay Up To Date
Get news on Mercy Housing and inspiring stories of change delivered to your inbox.