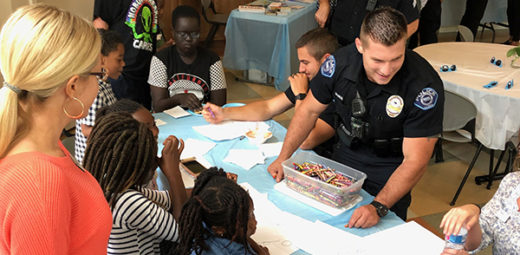 Aug 21

In & Out: Out of School and Involved
Thank you to our friends and supporters of Mercy Housing Midwest! On July 31, Crestview Apartments in La Vista, Nebraska, hosted our first ever In & Out: Out of School and Involved fundraising event. The event benefitted Mercy Housing Midwest's Out-of-School Time (OST) kids programming.
OST programs focus on providing a safe, supervised environment where all school-aged kids are welcome to participate. Kiddos can get help with homework, attend educational field trips, work on leadership development, and learn about the importance of healthy eating through nutritional snacks and cooking lessons. It also gives them a place to be creative, be social, and have fun!
And it was definitely an afternoon of fun! The event welcomed our sponsors, community partners, and the La Vista Police Department with an ice cream bar, fresh fruit, and refreshments. Many of the younger Mercy Housing residents who participate in OST programming presented hand-made posters that illustrated "What Home Means" to them.
Matthew, who is starting 5th grade this school year, participates in OST and many of the other programs offered at Crestview Village. For Matthew, home means taco night at his house. His illustration depicts a night shared with immediate and extended family, laughter, and games.
In & Out was a great success thanks to our many amazing sponsors. A huge THANK YOU goes to our presenting sponsors, The Staenberg Group and Bryne & Jones Construction. We appreciate your support and dedication to our younger residents through your generous sponsorship. An equally huge thank you goes to all our amazing sponsors who have guaranteed that OST programs can continue to thrive. Thank you to Brester Construction, Great Outdoors Lawn & Landscape, Schemmer, Haley Residential, and American National Bank.
Staff and families look forward to a great school year ahead!
Stay Up To Date
Get news on Mercy Housing and inspiring stories of change delivered to your inbox.