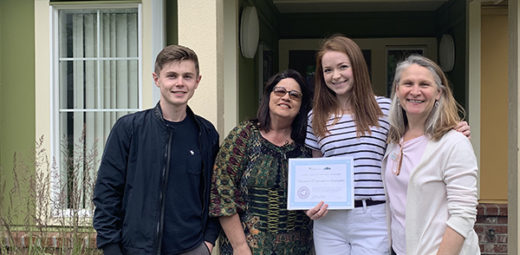 Aug 14

Supporting Youth Residents' Bright Futures
EPIC National Real Estate Practice partnered with Mercy Housing for the second year to offer college grants, supporting the bright futures for 14 students nationwide. Three youth residents in the Northwest were each awarded a $3,000 EPIC Educational Support Grant for their hard work and vision — Valentina, in Lynwood; Gerson, in Tacoma; and Esmeralda, in Bellingham. Each student wrote compelling essays that shared their hopes and dreams, and how Resident Services programming and stable, affordable homes helped to make their aspirations possible.
Valentina, a music student at the University of Washington, wrote about how her Resident Services coordinator, Natalie, encouraged her to share her passion and talent for music in the Mercy Housing community where she lived. She organized a musical celebration with other youth residents to thank and acknowledge the elders who lived in their community.
"As a family of four with one income source, living expenses tend to add up," wrote Valentina, "but living [in a Mercy Housing community] gives my family a peace of mind when it comes to paying bills, and allowed me to go back to school to earn a music education degree."
Congratulations to all the EPIC scholars and thank you to EPIC National Real Estate Practice for supporting youth residents!
Stay Up To Date
Get news on Mercy Housing and inspiring stories of change delivered to your inbox.