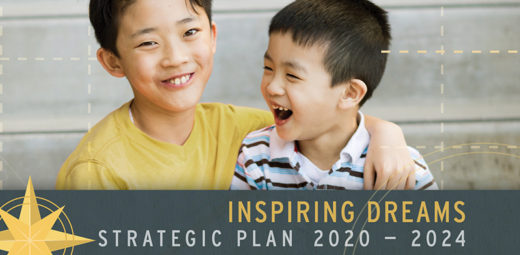 Jul 13

Inspiring Dreams: Strategic Plan 2020 — 2024
We are pleased to share with you our new 2020-2024 Strategic Plan. With this five-year plan, we continue our commitment to residents. Mercy Housing's North Star is defined by positive impact in the lives of residents, starting with but extending beyond housing. We owe it to residents, the guiding light of the organization, to enhance our approach to foster vibrant, healthy communities where residents can achieve their dreams.
We invite you to explore our plan, which outlines five strategic priority areas:
What We Do:
Inspire dreams through a refined resident impact model
Create and preserve homes for impact and efficiency
What We Need:
Proactively pursue strategic partnerships
Strengthen fundraising capabilities
How We Do It:
Approach our work with racial equity, community partnerships, continuous improvement, and guiding values in mind
Mercy Housing Northwest has already seen how the renewed vision for resident engagement is taking shape in our region. The Resident Services team invited residents to join the interview panel for recent hires, ensuring that resident voice remains a priority for who we attract to join our team. Later this year, the resident services team will embark on a new nationwide initiative called Community Connect, which empowers residents to identify personal goals and provide input on program design for onsite services. This national initiative is supported by grants from Hearst Foundation and the Congregation of the Sisters of Mercy of Ireland.
The coronavirus pandemic reflected a stark picture of housing in our region and in our country. Shelter-in-place was a privilege many could not afford. A family's economic resilience is tethered to their next paycheck. The cost of housing is incredibly burdensome for far too many in our cities and our states. The next five years are an incredible opportunity for an evolution that builds upon our origins and the resident-centered services that have always set us apart.
Stay Up To Date
Get news on Mercy Housing and inspiring stories of change delivered to your inbox.