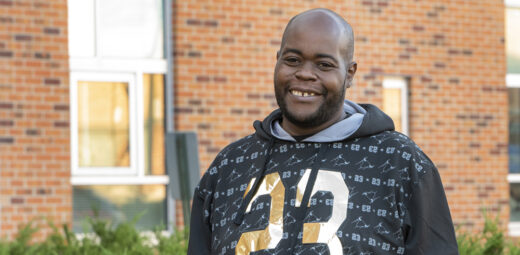 Lunden overcame homelessness and health problems to rekindle his relationship with his family.
If there's anything Lunden has learned in the past few years, he says, it's "just try your best, put your faith in God if you're a religious person. Once you've hit the bottom, you've got nowhere to go but up."
Lunden has experienced hardships, but recently, he says his life has definitely been looking up. He's been living at the Johnston Center in Milwaukee since October 2019, but before then, he dealt with homelessness on top of serious health issues for several years.
Lunden is originally from Tennessee, where most of his family still lives. He moved to Milwaukee about six years ago, following the mother of his two daughters when she relocated here with them. Lunden planned to live with them and make a home with his family in Milwaukee. "But it didn't work out like I thought it would. I guess she had a change of heart," he says.
After he and his partner split up, Lunden had difficulty finding other housing and stable work. "I didn't know anybody but them," he says, explaining he lacked a support network in the city outside of his former partner and their two young children. He ended up living sometimes on the streets, sometimes at a guesthouse, and sometimes at a homeless shelter for the next several years.
While he was homeless, Lunden struggled to stay in contact with his daughters, although he always made them a priority. He saw them as often as he could, he says, but "when I did see them, I couldn't dress so good, and I didn't have any money. I didn't have transportation to get there. The only thing I could do was give them my signs of love."
Lunden's life changed last year when he found a home at The Johnston Center Residences. "My life is where I wanted it to be when I first got [to Milwaukee]," Lunden reflects. "It just took a long time and a lot of scraping and effort and good people to get here."
Last year, Lunden faced serious medical issues that threatened his brighter future. While he was living in a shelter, he caught pneumonia and was sent to the hospital, where a doctor treating him realized Lunden was going through acute heart failure. "I was knocking on death's door, pretty much." He stayed at the hospital for about three weeks. After he recovered, the hospital referred him to the Salvation Army. His case manager there helped him obtain benefits, a process he'd struggled with previously since he rarely used computers. She also helped him find his home at the Johnston Center.
"I like it here. It's quiet, for the most part," Lunden says. "They've got friendly staff too — I love the staff." Lunden speaks with his Mercy Housing Lakefront case manager at The Johnston Center Residences weekly. And, before the beginning of the coronavirus pandemic, he also enjoyed seeing other staff around the building, although it's more difficult recently. "Nothing to do about it but try to stay safe," he says. "It hasn't been too bad."
At The Johnston Center Residences, Lunden has also benefitted from food deliveries through partner Hunger Task Force. "It was a big help to me," he says. His favorite thing about living at the Johnston Center, however, is the security of his home – "I always feel safe and secure when I'm here."
Lunden knows other residents in the building, but his main focus is still his daughters, who are now six and ten years old and still live with their mother in Milwaukee. "I haven't been able to do things for them like I used to before the homelessness until now, so I want to spoil them as much as I can," he says.
This spring, Lunden met a personal goal by buying a truck, which makes it easier for him to visit his daughters and take them out for meals or other outings when it's safe to do so. Now, Lunden is feeling positive about his future. "I got a new chapter in my life," he says. "The last chapter's been pretty dark, but everything is looking better for me now."
Stay Up To Date
Get news on Mercy Housing and inspiring stories of change delivered to your inbox.