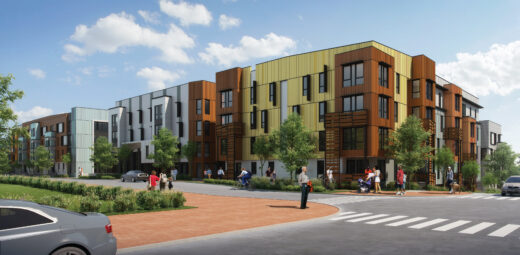 Oct 22

Real Estate Development
Sunnydale Progress, Block 6 and Block 3
After many years of planning, the rebuilding effort at Sunnydale is taking a major leap forward with the construction and design of four new buildings on the southeastern edge of the community.
A new residential building on Block 6, which will provide 167 affordable homes for families, is starting to rise majestically as it nears 40% completion this October. Community art dots the decorative metal fence surrounding the construction site, representing creative work of 150 Sunnydale residents that participated in this art project that lends an upbeat mood as concrete and wood continues to shape the upcoming new homes.
In addition, major work is underway for the design and financing of all three buildings that form the neighborhood HUB at Sunnydale and Hahn. The next residential building (aka Block 3) will contain 170 apartments, ground floor retail, and a wellness center. Across the street, Mercy Housing and partners are busy fundraising for a state-of-the-art recreation center with a gymnasium as well as a community center that includes an expanded Boys and Girls Club clubhouse and an early childhood center run by Wu Yee Children's Services. The Sunnydale Capital Campaign, a multi-year effort started in 2018, has raised $20M toward the Sunnydale Gym/Community Center with a goal of $35M.
Focus groups, design charettes, and pop-ups led by Mercy Housing Sunnydale staff like Larry Jones, and residents also included input into important retail space on Block 3, which will include an early childhood center, restaurant/cafés, and other types of small businesses that residents identified as critical to their community. A wellness center will serve as another critical component of Block 3 – as James, a lifelong resident of Sunnydale remarked, "wellness in all its forms – emotional, physical, spiritual and mental – are so important to our community, and we are excited about both the new homes and community center."
Stay Up To Date
Get news on Mercy Housing and inspiring stories of change delivered to your inbox.