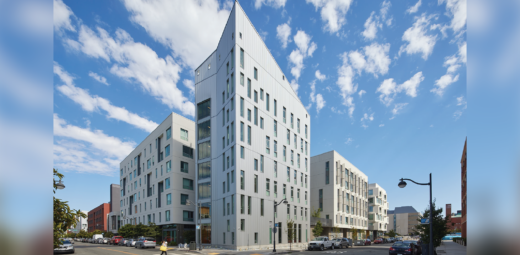 Jul 13

Dedicating The Sister Lillian Murphy Community in San Francisco
For almost thirty years, until her retirement in 2014, Sister Lillian Murphy, RSM, served as President and CEO of Mercy Housing. Under her leadership, Mercy Housing expanded from a small, regional housing development organization with 250 homes to a nationwide leader that provides over 24,000 affordable homes to nearly 45,000 residents in 21 states, with over 1,700 employees.
The late Sister Lillian was born and raised in San Francisco and advocated fiercely for women, children, and families during the span of her influential career. Mercy Housing California (MHC) found it fitting, therefore, to honor her memory with the dedication of a 152-home affordable community for families in San Francisco's thriving Mission Bay neighborhood.
"Sister Lillian Murphy's contribution to San Francisco is a story that should be known to more people," said Doug Shoemaker, MHC President. "Born at San Francisco General when it was still a Mercy hospital, she went on to change both health care and affordable housing as we now know them in San Francisco and across the country." Mercy Housing celebrated its fortieth anniversary this year, and it's impossible to talk about our four decades of success without talking about Sister Lillian.
Located at 691 China Basin Street in San Francisco's Mission Bay district, this architecturally-striking seven-story residence joins several other MHC affordable communities in the neighborhood. San Francisco began redeveloping Mission Bay, which was originally a railyard, in 1998. The area now boasts thousands of newly constructed homes, including around 30% affordable housing, open green spaces, new retail, and fun amenities for families. In fact, the ground-floor commercial spaces at the Sister Lillian Murphy Community are home to a music school for children and adults and a neighborhood-serving childcare center.
"While we are always excited to celebrate new affordable housing opening in our city, these 152 units are a little extra special because of their dedication in honor of Sister Lillian Murphy, a true champion of affordable housing in San Francisco," said San Francisco Mayor London Breed, who spoke at the dedication. "The Mission Bay neighborhood is continuing to grow and thrive thanks to projects like this that not only bring resources and programs but provide opportunities for San Franciscans to remain safely and stably housed."
Apartments at the Sister Lillian Murphy Community range from studios to 5-bedrooms, providing a unique opportunity for multigenerational families to access spacious, affordable homes in San Francisco. Thirty-eight homes were reserved for families who chose to relocate from former public housing apartments as part of the Sunnydale HOPE SF neighborhood transformation plan. All residents have access to free, onsite services provided by Mercy Housing, including health and wellness programs, job readiness support, and community engagement activities such as youth educational coaching, school supply giveaways, family movie nights, and art therapy.
On the hallway wall outside the community room hangs a portrait of Sister Lillian Murphy with one of her most oft-quoted statements: "Affordable housing is not an act of charity. It is an act of justice." It is Mercy Housing's sincere hope that residents of this new community experience the stability, health, and sense of connectedness that all families deserve to enjoy together.
---
Mercy Housing California thanks our Sister Lillian Murphy partners:
ARCHITECT: Paulett Taggart Architects and Studio VARA
CONTRACTOR: Cahill Contractors
PARTNERS AND FUNDERS: San Francisco Office of Community Investment and Infrastructure, California Tax Credit Allocation Committee, Bank of America, California Community Reinvestment Corporation, California Department of Housing and Community Development
---
Stay Up To Date
Get news on Mercy Housing and inspiring stories of change delivered to your inbox.