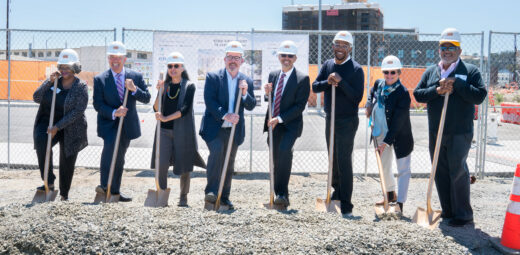 Aug 02

Breaking Ground at Star View Court, New 138-Home Affordable Family Community on Treasure Island
FOR IMMEDIATE RELEASE July 28, 2022
Contact:
Rosalyn Sternberg, Communications Manager at Mercy Housing California, 415-355-7157, rosalyn.sternberg@mercyhousing.org
Liza Cardinal Hand, Chief Communications & Marketing Officer, Catholic Charities of San Francisco, San Mateo, and Marin Counties, 503-621-8024, LHand@CatholicCharitiesSF.org
TREASURE ISLAND, SAN FRANCISCO: Residents of Treasure Island and affordable housing stakeholders celebrated the groundbreaking of Star View Court, a new seven-story, 138-unit, 210,586 square-foot affordable home development and collaboration between Mercy Housing California and Catholic Charities of San Francisco, San Mateo, and Marin Counties on Wednesday, July 27. When completed in 2024, this new residential community will provide 71 one-for-one replacement homes for formerly homeless families currently living on the island and receiving sustaining individual and community support and services through Catholic Charities, 23 replacement homes for households living at The Villages at Treasure Island, and an additional 44 affordable homes for families. The project's name, Star View Court, is in part a tribute to the Star Barracks that occupied the site when Treasure Island was a military base.
"The development of quality, affordable homes on Treasure Island is long overdue, and we're proud to be collaborating with our longtime partner Catholic Charities to meet the needs of current residents and their families during this time of major transition," said Mercy Housing California President Doug Shoemaker.
"What began in 1999 as a pioneering effort to house and help formerly homeless families at the decommissioned military base on Treasure Island, has grown into a thriving community through tenacity, hard work, and partnership," said Ellen Hammerle, Catholic Charities Vice President of Client Services. "The Star View Court groundbreaking is a testament to the power of collaboration among the island residents and our committed partners, Mercy Housing, One Treasure Island, and the Treasure Island Development Authority over many years. It is inspiring to envision, collaborate, and effectively change lives to sustain the well-being of our clients."
Erick Brown, Catholic Charities Director of Housing Support Services, added, "As partners with the Treasure Island residents and other vital supportive service agencies, we have built a prosperous neighborhood on the island founded on respect, resilience, and dignity. It is glorious to witness the first shovel of dirt and know a building will rise that is worthy of the healthy growth and self-sufficiency demonstrated by these formerly homeless residents."
Star View Court is the first-ever development to close with financing from the California Housing Accelerator, a state-level program providing shovel-ready affordable housing developments with the necessary funding to start construction.
"HCD is proud to invest over $100 million into the redevelopment of Treasure Island through some of our most innovative funding sources – Housing Accelerator, Affordable Housing and Sustainable Communities Program, and Infill Infrastructure Grant – to create a more inclusive, affordable community that allows current residents to remain here and will serve generations to come," said California Department of Housing & Community Development Director Gustavo Velasquez.
Star View Court represents decades of planning and advocacy to bring quality, affordable homes to Treasure Island. Partners proudly weighed in on what this new housing for families will mean to the community:
"The Mayor's Office of Housing and Community Development is thrilled to support the redevelopment of Treasure Island and the building of new affordable housing in San Francisco," said Mayor's Office of Housing and Community Development Director Eric Shaw. "We see the 138-unit Star View Court project as an anchor that advances the City's goal of providing mixed-income housing for residents of Treasure Island."
"There is an acute need for all types of affordable rental housing in California, particularly in the Bay Area, so we are particularly pleased to have been able to work with Mercy Housing and Catholic Charities to finance quality housing for formerly homeless families on Treasure Island," said Richard Gerwitz, Managing Director, Citi Community Capital. "The successful closing is a real demonstration of the strong capabilities of Mercy Housing California who were able to work with their partners from the City and County of San Francisco, and the Housing and Community Development Department of the State of California, to put together a unique capital structure that will allow this project to be developed."
"District 6 neighborhoods are the epicenter of new housing in San Francisco, and Treasure Island is absolutely no exception," said San Francisco District 6 Supervisor Matt Dorsey, who represents Treasure Island, in addition to South of Market and Mission Bay. "Star View Court is one of the first new developments on the Island – which is in the midst of a major redevelopment that will bring in thousands of new residents and serve its existing residents in years to come."
"Star View Court is the culmination of over 25 years of advocacy and planning and will provide critically needed permanent housing for homeless and low-income families," said Sherry Williams, Executive Director of One Treasure Island. "The vision for Treasure Island is to grow this mixed-income, inclusive and thriving community and this housing will make a significant contribution to realizing this vision. We congratulate and thank Catholic Charities and Mercy Housing for their diligence and commitment!"
"We are thrilled to see the Star View Court starting construction," said Bob Beck, Treasure Island Development Authority Director. "The Treasure Island Program is a true public-private partnership, and this project is only possible because of the work of the principal developer, Treasure Island Community Development, to geotechnically improve the site and deliver the public infrastructure and the support of One Treasure Island members, Mercy Housing, Catholic Charities, the Mayor's Office of Housing and Community Development, and the state of California."
"Treasure Island is coming to life as one of San Francisco's most vibrant neighborhoods, with the most housing and infrastructure development underway anywhere in San Francisco right now," said Chris Meany, Managing Partner of Treasure Island Community Development, which is playing a key role in the visionary redevelopment bringing 8,000 new homes, 300 acres of parks, trails and open space, new restaurants and shops, public art installations, and events to Treasure Island and Yerba Buena Island. "The positive momentum continues with Catholic Charities' and Mercy Housing's exceptional project."
Star View Court will be designed by woman-owned San Francisco firm Paulett Taggart Architects and constructed by local general contractor Nibbi Brothers. Onsite resident services will be provided by Catholic Charities, and property management will be provided by Mercy Housing. Funding has been provided by the City and County of San Francisco, the Mayor's Office of Housing, Citi, and the California Department of Housing & Community Development's California Housing Accelerator. The project was made possible by financing from California Climate Investments (funded through the Greenhouse Gas Reduction Fund) Affordable Housing and Sustainable Communities Program through the Strategic Growth Council and the California Department of Housing & Community Development.
Stay Up To Date
Get news on Mercy Housing and inspiring stories of change delivered to your inbox.