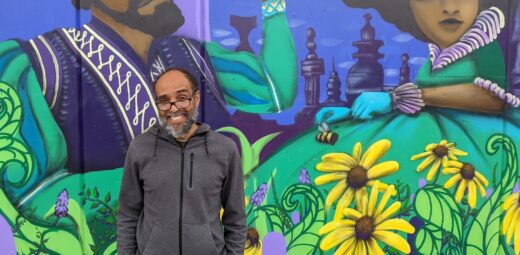 Sep 27

A Mural for the Community
In 2021, Mercy Rosa Franklin Place opened in the Hilltop neighborhood of Tacoma. Impressed with Jeremy's work, Mercy Housing Northwest commissioned a mural to represent the historic Hilltop neighborhood. As a child, Jeremy Gregory's mother nurtured his love of art to keep him close. Those doodles and coloring projects grew into a deep love of art in all its forms.
As Jeremy grew up, he found it impossible to keep his artistic expressions contained in sketchbooks. All around him was a grey world begging for splashes of color. Those initial flirtations with street art looked a lot like the graffiti that can be seen on cement walls along interstate 5 as you enter Seattle or Tacoma. Nervous attempts to document his presence mostly defined those early days, letting the world know a new artist was on the scene. With age, Jeremy's work became more sophisticated and expressive. It morphed from tagging into a deep desire to leave behind something representative of the community in which his art now lives. Communities across the country began turning to muralists to add vibrancy, color, and inclusive art to neighborhoods and downtown businesses. For Jeremy, this meant his passion could become something more than a hobby. It could become a business.
With a strong social media following on Instagram (@candyteethcreative), Jeremy began applying for community art calls via local art commissions. Armed with sketches and a lot of passion, his work started getting noticed. Working mostly in the South Sound, Jeremy now does 20+ commissioned murals a year. He attributes that growth to "a little luck, some word of mouth, and time spent perfecting [his] craft."
His initial sketches began with the princess pictured above. From there, it grew into a piece representing the generations of BIPOC people who have called one of Tacoma's most diverse and vibrant neighborhoods home. Jeremy explains, "Ultimately, I wanted to create something that was future proof. As this neighborhood grows, changes, and deals with the challenges of gentrification, I want people to look at this mural and know a prosperous neighborhood has always existed here."
Working mostly on the weekends, the entire project took three weeks to complete from beginning to end. With the final splash of spray paint, Jeremy forever changed the walls of Rosa Franklin Place. As you walk the sidewalk or drive past, Jeremy's work is hard to ignore. Mirroring his desires, we hope it beautifies the community and begins a conversation.
To inquire about working with Jeremy, email us at info@mercyhousing.org
Stay Up To Date
Get news on Mercy Housing and inspiring stories of change delivered to your inbox.