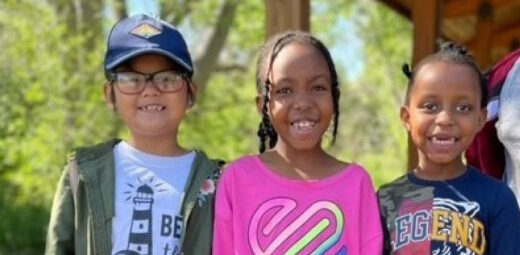 Oct 14

A Splash of Summer Fun
Out-of-School Time is a widely popular youth program at Mercy Housing that provides kids with the opportunity to receive resources and support in a variety of ways. From homework help to healthy snacks, activities are focused on providing a safe place for kids to learn and grow, and — above all — explore new things!
Activities are offered throughout the year with summer being a prime time to get outdoors. This summer did not disappoint as kids participated in a variety of fun activities that resulted in lots of smiles and new experiences for so many. Check out these highlights!
Gone Fishin'
It was the perfect summer day for Mercy Housing Mountain Plains' youth residents to gather for a day of fishing! For the fourth year in a row, Malik Wilder, founder and CEO of Fishing for Hip Hop led this extraordinary adventure to introduce Mercy Housing kids to the art of fishing. The kids learned the basics of fishing and all about the various fish they came across in the waters. Each child received their very own spin rod and reel, compliments of Colorado Parks and Wildlife. A huge thank you to our friends at Fishing for Hip Hop and Colorado Parks and Wildlife for helping to make this day a truly memorable experience!
REDI Teen Group
In 2021, a new Teen REDI (Racial Equity, Diversity, and Inclusion) club launched at Crestview Village in Omaha. Youth residents meet twice a month and work together to plan community events with a focus on promoting racial equity and inclusion throughout the community. Club members participate in team building activities, learn how to handle difficult conversations around the topic of REDI, and learn how to be encouraging and supportive to their peers.
In addition to REDI-related work, participating youth have also hosted fun events such as a back-to-school drive for residents, and a community Halloween event. The REDI Teen Group is looking forward to the year ahead, as they plan and lead more events and opportunities in the community to build positive morale and trusting relationships. Next up is planning a BINGO night for adult residents and putting together hygiene bags for a local homeless shelter!
Backpacks, Anyone?
New gear for the new school year! For students, heading back to school can bring a myriad of emotions, including excitement, fear, and dread. Not having the right school supplies can put kids at a disadvantage, impacting their health. According to a 2022 Deloitte Back-to-School Survey, school supply shopping is the second largest spending event for parents (behind holidays), and 60 percent of parents were concerned about higher school supply prices this year. For the second consecutive year, Mercy Housing's Clare Gardens in Denver, CO held a back-to-school celebration for youth residents. With over 200 backpacks filled with school supplies, including notebooks, folders, pencils, highlighters, and even glue sticks for the littlest learners, families came out to select brand new backpacks for the school year.
Summer Stem Camp
Children at Crestview Village in Omaha, NE were thrilled to join in on an onsite two-day STEM (Science, Technology, Engineering, Math) science camp in July. The camp was hosted by a local science teacher from G Stanley Hall Elementary School, Papillion La Vista Public Schools. Thanks to the generosity of the school and the teacher, children had access to iPads and Legos, and enjoyed building a STEM set battery-operated drawbridge. The highlight was being able to build battery-operated cars. We look forward to continuing this partnership throughout the school year!
Stay Up To Date
Get news on Mercy Housing and inspiring stories of change delivered to your inbox.