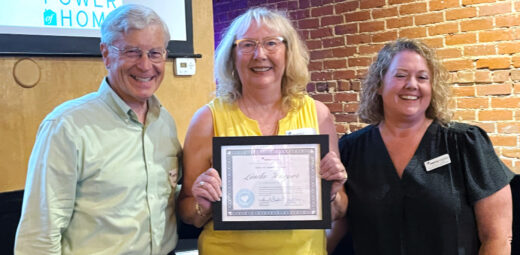 Oct 14

Success in the Midwest with the Power of Home
Thank you to all our friends and supporters who attended the Mercy Housing Midwest 2022 Power of Home fundraiser in Omaha, Nebraska. Guests had the opportunity to meet our new Mountain Plains president, Shelly Marquez, and learn more about our exciting plans for developing more stable, affordable housing across the region.
Congratulations to this year's Heart of Mercy Award recipients, Lift Up Sarpy County and Elci Warnell, and the Spirit of Mercy Award winners, American Red Cross, Heartland Hope Mission, Holling Heights Elementary School, and St. Vincent De Paul Catholic Church.
The program also included special acknowledgement of Sister Carolyn Coffee, who recently passed away, as well as all of the Sisters of Mercy who have been a part of Mercy Housing's history. We were honored to have Sister Jeanne Christensen and Sister Jeanne Ward, two Sisters of Mercy, join us for the event. Patricia O'Roark, founder of Mercy Housing, shared some of her fond memories of Sister Carolyn with us, which you can view on our blog.
Mercy Housing is celebrating its 40th Anniversary. We are grateful for your support and look forward to what we can accomplish together over the next 40 years.
Stay Up To Date
Get news on Mercy Housing and inspiring stories of change delivered to your inbox.