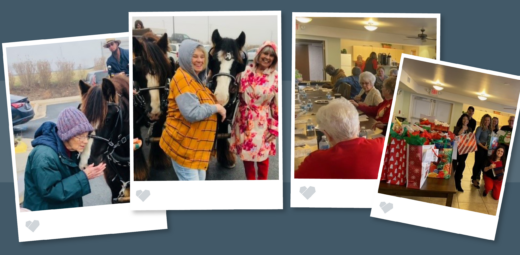 Jan 18

Love and Support Across the Region
Phoenix Homecare partnered with Mercy Housing Mercy Village staff in Joplin, MO., to set up carriage rides for senior residents. For some, it was their first time meeting these beautiful animals up close. They also had the chance to feed the horses, which made the day even more fun! The rides were pretty smooth too! Thank you, Phoenix Homecare, for helping to bring smiles to so many faces.
Page Common's Annual Adopt-A-Senior Gifts and Holiday Breakfast event was filled with cheer thanks to community partners The Gilbert Chamber of Commerce, Newton Realty, and Village Medical. Over 50 residents were also treated to a special performance by the Leading-Edge Academy Elementary school . We are very thankful for the continued support of our community partners each year with our Adopt-A-Senior event, which has been one of the most popular events over the years for Page Commons residents.
"The Adopt-A-Senior program that the Chamber hosts every year not only provides much-needed items but also brings so much joy and happiness to the seniors that call Mercy Housing home. As you can imagine, these past few years have been tough, so this extra love and support is really welcomed!" – Ellen Abrams, Regional Philanthropy Director, Mercy Housing.
Stay Up To Date
Get news on Mercy Housing and inspiring stories of change delivered to your inbox.