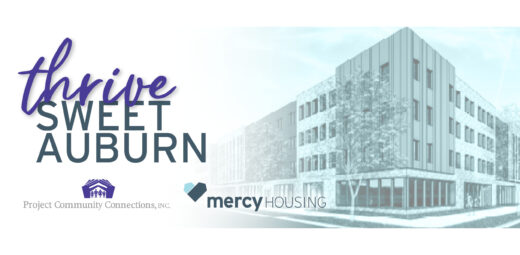 Feb 27

Getting Ready for the Thrive Sweet Auburn Grand Opening
We're celebrating the grand opening of Thrive Sweet Auburn on April 26, so save the date!
A collaboration between Project Community Connections Inc. (PCCI) and Mercy Housing Southeast, Thrive Sweet Auburn is a mixed-use development in Atlanta's Old Fourth Ward created to provide operating space for PCCI, a vital nonprofit serving people exiting homelessness, paired with 117 high-quality affordable apartments. This new development, which is leasing up now, is located close to transit, employment centers, medical services and community amenities.
For more than 20 years prior to redevelopment, this Decatur Street site housed PCCI's services dedicated to ending homelessness and promoting personal and economic self-sufficiency. Thrive Sweet Auburn will give PCCI and its nonprofit partners the working environment they need to continue their crucial services.
Thrive Sweet Auburn will serve as home to PCCI's Community Engagement Center, which includes commercial space shared by PCCI's services and other nonprofit organizations serving vulnerable citizens. The commercial space will be occupied by organizations dedicated to providing workforce development, healthcare, and additional services vital to the residents and surrounding community.
Three floors of apartments, developed and managed by Mercy Housing, will provide much needed housing in an area where affordable rentals are increasingly hard to procure. Twenty percent of the apartments will be dedicated permanent supportive housing (PHS), serving the needs of individuals and families exiting homelessness. Additional units are reserved for veterans.
This mixed-use development created by PCCI and Mercy Housing is an example of a strong nonprofit partnership that will deliver positive impacts for both residents and the larger community.
More details on the time and location will be available soon, so mark your calendar, and plan to join us for the grand opening celebration, including tours of the high-quality, energy-efficient, affordable apartments built and managed by Mercy Housing Southeast.
For more information, contact Beth at beth.haynes@mercyhousing.org
Stay Up To Date
Get news on Mercy Housing and inspiring stories of change delivered to your inbox.