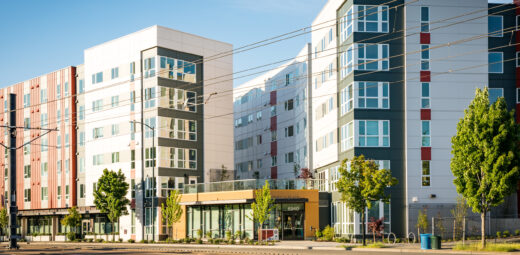 Mar 15

Housing Is Healthcare
Although the stories about the pandemic are starting to fade from the headlines, their impact is still being felt by Mercy Housing Northwest residents. Stories such as Cam's are still being told and will be for some time to come.
Cam and her husband were living in Spanaway, WA, at the start of the pandemic. Recently retired from the military, they both were eagerly waiting for the next chapter of their lives. Both were facing some health concerns, but they found themselves excited about whatever the future might hold.
Then the world changed overnight. Living on a fixed income, life was already challenging, but when their landlord sold their home to a new owner, they faced an increase in rent beyond their means. Desperately, they searched for an affordable option. In less than a month, they would have to vacate their home. Despite their search for a new, affordable home through countless websites, the only option before them would be an affordable hotel room with weekly rates.
Cam still remembers that first night in the hotel. "The walls were paper thin, we crammed everything we owned into the room, and we sat on the bed in disbelief," Cam said. "We are homeless. We are actually homeless."
But Cam has never been one to give up. Having spent years as a military spouse ingrained in her a "never quit" attitude. Cam kept making calls. She kept advocating for her family.
"There was a consistency to change in the military, but being thrown into homelessness was completely different, said Cam." "How can you not be stressed when you are homeless? You are in a constant fight-or-flight mode." Eventually, it all became too much. Cam had reached an unhealthy weight for her condition. "A doctor told me if I didn't get back to a healthy weight, it would force them to hospitalize me." Cam knew something had to change, and called 2-1-1.
They referred her to a caseworker and together, they worked to find housing for Cam and her husband. That's when Cam stumbled across Gardner House, a Mercy Housing Northwest community in the Columbia City neighborhood of Seattle. 15 minutes before her call, a tenant had given their notice to vacate the property. "The clouds opened up for the first time in a long time, Cam said with a smile on her face." "Soon, we would be home."
With keys in their hands, they unlocked the door to their new home. With fresh paint on the walls and cleaned from top to bottom, they breathed in new possibilities. Here, her husband could continue working on a line of clothing he had created specifically for people with disabilities. In the kitchen, Cam could cook healthy meals and get back to a healthy weight. Outside, they would have easy access to public transportation. They could easily get to doctor's appointments. This community could be their home.
Since moving in, her neighbors have named Cam the unofficial mayor of Gardner House. They can often find her volunteering during out-of-school time with the grade schoolers, advocating for herself at community meetings, and pulling neighbors together for various events. "Out of this sea of change, a community has been born. I couldn't be more grateful," said Cam.
Stay Up To Date
Get news on Mercy Housing and inspiring stories of change delivered to your inbox.